Fight Hunger | Midway Como Frogtown Monitor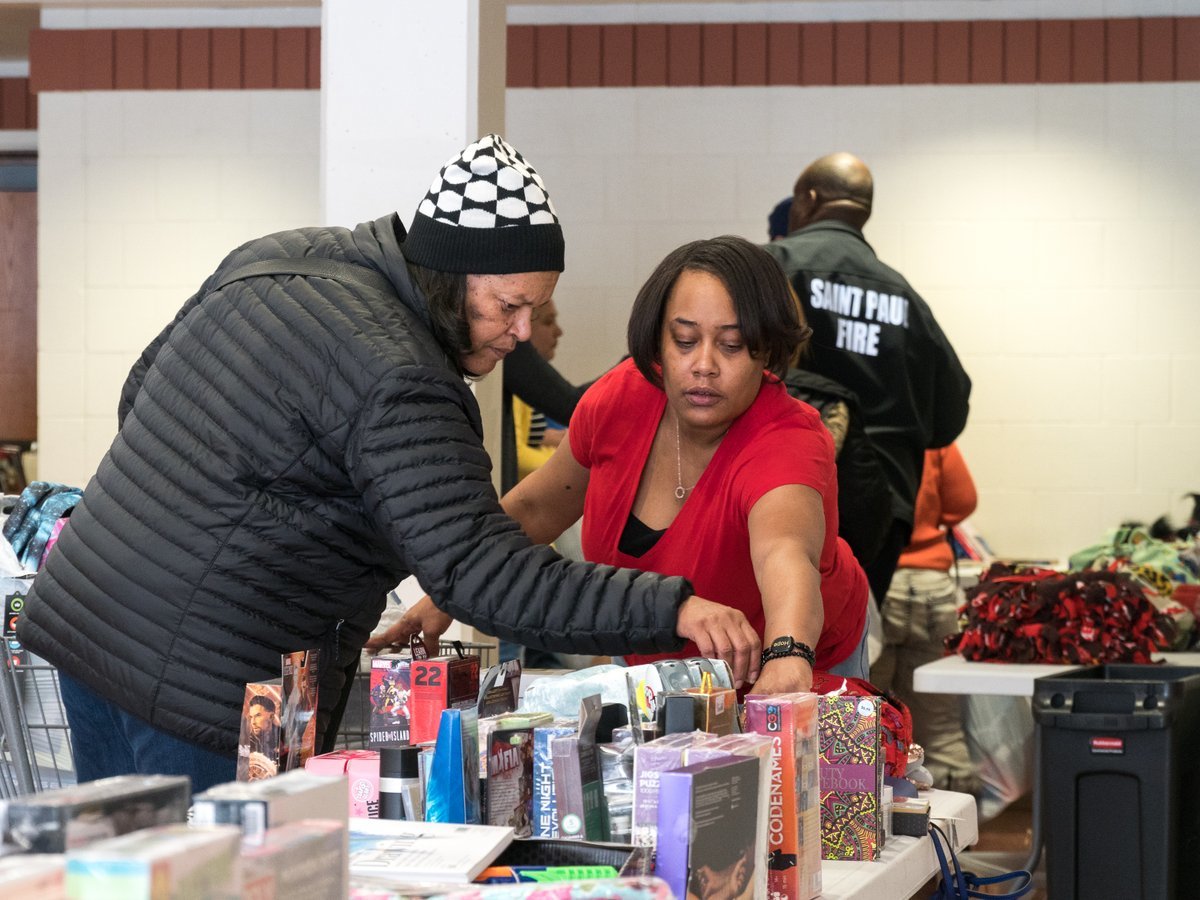 By CHLOE PETER
In every county and district in Minnesota, people face the challenges of figuring out where their next meal may come from, or if it will come at all. According to a study by Feeding America, a national nonprofit organization that provides a network of more than 200 food banks, more than 400,000 people in Minnesota face hunger. Two local community centers are trying to combat these numbers.
HALLIE Q. BROWN COMMUNITY CENTER
The Hallie Q. Brown Community Center (HQBCC) located at 270 N. Kent Street has been serving the community since 1929. HQBCC focuses on six main service areas: early childhood education, basic needs as a food shelf and clothes closet, youth enrichment, seniors, historical archives and multi-service hub programming.
"Organizations like ours provide services and access to resources that people need, as well as programs and opportunities that improve their quality of life," said Jonathan Palmer, CEO of the Hallie Q. Brown Community Center. "What makes HQBCC unique is that while we serve everyone, we are the only one-stop center of our kind in St. Paul with an African-American identity and focus."
Their food shelf provides culturally specific foods, allergy/restricted diets such as gluten-free and vegan, religion-restricted such as kosher or halal, and pet food for those in need. According to Palmer, the services they provide are aimed at providing security. It is a place that people can always connect with when they are in need and know that their challenges will be met and they will be treated with dignity and respect. Each of the programs offered by the Hallie Q. Brown Community Center is structured to reduce needs, so that families and individuals can spend their income on other necessities.
"We help individuals and families break the cycle of poverty and empower them to have a better life. And we all do better when we all do better," Palmer said.
As part of their six main service areas, HQBCC also includes a Community Archive which is a repository of the archives, photographs and history of the Rondo neighborhood and the African American community of Saint Paul. This aims to help families and individuals keep history in mind and include culture as an integral part of how they respond to community needs.
Readers can donate money through their website at https://www.hallieqbrown.org/site/index.php/get-involved/donate/. In addition to donating, readers can volunteer their time by volunteering, hosting a food or resource drive, and sharing the story of the Hallie Q. Brown Community Center.
"The services we provide have a cultural fluency that uplifts and empowers BIPOC communities, ensuring we address the whole person and not just one need," Palmer said.
Hands open halfway
Open Hands Midway (436 Roy Street) has been serving the community since 2003. Every Monday and Wednesday, Open Hand Midway provides meals to people in need. On Tuesdays once a month they have a food shelf for individuals and families who need groceries. Although they don't always provide specialty foods for their hot meals, they often provide an alternate option for that meal. Readers can see what the hot meal will be on the calendar events page of the Open Hands Midway website at https://www.openhandsmidway.org/what-do-we-do.
Their mission states, "Our mission is to serve the St. Paul Midway and surrounding area by leveraging the donations of contributors to provide a means for those who are economically challenged to obtain nutritious meals, groceries and personal supplies, as well as access to a range of community resources."
Open Hands Midway also offers other essential services like pet food so people don't have to choose between feeding themselves or their pet. They aim to provide a holistic care approach that is not just about food, but also services such as connecting people with help finding housing or figuring out how they will pay their rent this month. -this. At each meal program, a registered nurse is present to check blood pressure and assist people in any way possible.
"Food is a vital necessity and we provide it for free so people can use their limited financial resources for other things," said Kay Kuehn, executive director of Open Hands Midway.
All staff plus Kuehn and a part-time cook are volunteers. They offer referral links to many organizations such as Hope Dental Clinic, Open Cities Health Center, etc. Readers can get volunteer and donation information through the Open Hands Midway website at https://www.openhandsmidway.org/get-involved.