Linda Thompson faces candidate with name recognition and deeper pockets in fight to retain her seat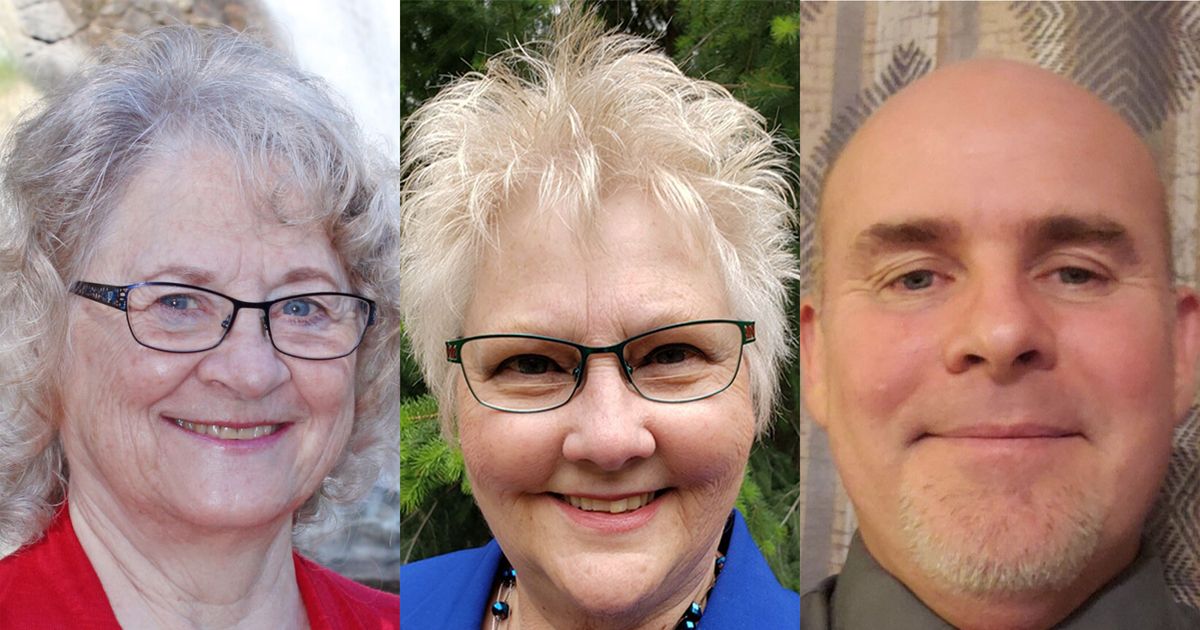 Voters in Spokane Valley will have to choose between a moderate and two conservatives for the council's No.7 position in the August 3 primary.
Linda Thompson, a member of Spokane Valley City Council, describes herself as financially conservative and moderate overall. In 2008, she ran as a Democrat against Republican Larry Crouse for a 4th District seat in the Washington State House of Representatives.
Laura Padden, wife of 4th District State Senator Mike Padden, challenges Thompson. Padden describes herself as a conservative Republican.
Renault Patrick Evans describes himself as a centrist who leans to the right. On his campaign's Facebook page, Evans said he was anti-abortion, believed LGBT lifestyles are unnatural, and didn't think schools should teach sex education.
All three candidates specifically noted that public safety would be one of their main goals if elected.
Padden said she was concerned about an increase in gang violence in the Spokane Valley. She said she would like the city to make a concerted effort to hire more police officers. Evans said the same thing.
Thompson and Evans have both said they would like Spokane Valley to continue contracting with the Spokane County Sheriff's Office for law enforcement, instead of creating its own police force.
Padden said she was unsure whether the city should have its own police force.
"I need to see the numbers," she said.
Fight against homelessness
Many say homelessness has been seen to be on the rise in the Spokane Valley in recent years. The COVID-19 pandemic and the housing crisis appear to have exacerbated the problem.
Thompson said she was sympathetic to the city's handling of homelessness during her four years on the council.
For example, the city hired Arielle Anderson as the housing and homelessness coordinator this spring, Thompson noted. She said it was a great decision.
Anderson's job, in broad terms, is to develop plans to address housing and homelessness issues, and to work directly with the homeless.
The fact that Anderson spends time out of the office working directly with people is essential, Thompson said.
"I think it's really an awareness issue," she said. "I thought it was important that we have a proactive role. "
Spokane Valley does not have a homeless shelter. Instead, the city sends money to Spokane, via Spokane County, to financially support the shelters.
Thompson said she would not object to building a shelter in Spokane Valley, but if there is to be a facility, it must be done well.
Shelter alone is not enough, Thompson said. A shelter should include support services to help people move out of homelessness.
"There needs to be more investment in the programs," Thompson said. "We have to give people a hand. It really pays off when you give someone a helping hand.
Padden said she was unsure whether the city made the right choice in hiring Anderson.
"I don't know what his marching orders are," Padden said. "I may or may not have problems with this. "
Padden said she was not against the city having its own shelter, but said if the city took this route, it would have to outsource the facility, not manage it alone.
She also noted that she was unsure whether the city should send money to Spokane via the county.
"I wish I had more control over the money," Padden said.
The city must help the homeless "get back on their feet," Padden said, but stressed that if people refused help, the city should enforce laws against them.
Evans said he had no problem with the government helping the homeless. He said he experienced homelessness as a teenager.
"It wasn't fun," he said. "I understand."
Evans doesn't want Spokane Valley to have shelter.
"I'm not really in favor of it, but then again it can become a necessity," he said.
He added that he was not opposed to the city financially supporting nonprofits that help homeless people.
The housing crisis
Spokane and Spokane Valley are experiencing a housing crisis. Thousands of people are struggling to find accommodation and prices keep skyrocketing.
Padden said Spokane Valley City Council has limited capacity to deal with the housing shortage. State-level changes could be more powerful, she said.
"What we need to do is push like crazy (on the state legislature) to make changes there," she said.
At the local level, the city could consider offering more incentives for building affordable housing, Padden said.
"What about affordable housing zones? She said, suggesting that the city could provide financial assistance to developers wishing to build affordable housing in certain areas.
Evans said he hasn't given much thought to what the city can do to deal with the housing crisis.
"I think if this was an easy answer, the city council would have solved this problem already," he said.
Urban sprawl could be a "necessary evil," Evans said, simply because Spokane Valley needs to build more housing and construction has to take place somewhere.
"I don't want to go into a situation where there is no one family," Evans said. "The American dream is to own your own place."
Thompson, like Padden, noted that state-level changes to housing development may be more significant than local changes. She said she didn't want to see West Side lawmakers dictating what development looks like in eastern Washington.
What the city could do is bring builders and affordable housing experts together in one room and ask them to think about solutions to housing crises, Thompson said.
"I think we need to have a think tank," she said. "I don't have the answers… but I'm so open to hearing ideas and suggestions. "
Thoughts on Matt Shea
Some members of Spokane Valley City Council have defended Matt Shea, the former Spokane Valley State Representative, even as prominent politicians in Washington and across the country have harshly criticized him.
Shea was ousted from the Republican State House caucus in 2019 after an independent investigation found he had committed "an act of domestic terrorism against the United States" for his role in the 2016 standoff at the Malheur Wildlife Refuge in eastern Oregon.
Yet despite his ouster and repeated controversies, the former politician remains popular among many residents of the Spokane Valley.
None of the candidates in the current Spokane Valley City Council primary elections have strongly criticized Shea.
"I barely know the name," Evans said. "I just heard the name for the first time last Saturday (July 3.")
Thompson said she works with all elected officials, regardless of their perspective.
"This is what the people chose," she said.
"He's not on the ballot," Padden said. "I don't know why you would even ask. "
Should the city expand parks and trails?
Spokane Valley has made several purchases of park land in recent years. In 2020, the city purchased a 45-acre, $ 2.1 million parcel near the intersection of Flora Road and Euclid Avenue. This year, the city purchased a $ 1.6 million, 17.7 acre parcel in the Ponderosa neighborhood.
The purchase of Flora Road drew criticism from some who thought the city should not spend so much on park land amid the pandemic.
Evans said he was generally in favor of investments in parks and trails.
"I am a nature boy," he said. "If we don't buy it now, later we wish we had."
Evans added a caveat: the city should not outbid companies or developers for the land.
Thompson said she is a strong supporter of expanding parks and trails.
"I was delighted to be able to buy land in the park and expand our trails," she said, noting that these investments are good for the health of the community.
The riverside purchase by Flora Road was particularly valuable, Thompson said, as it will allow people to enjoy the Spokane River.
"It's what builds communities," said Thompson.
Padden said having a great network of parks and trails is a "positive for a city," but she is not sure if all of the recent land investments were wise.
"I think maybe they should have looked at their priorities," she said. "Maybe it's not the right priority."
Road maintenance
Spokane Valley leaders say their roads are in relatively good condition. But the way the city finances road maintenance will have to change.
This is because the city used a landline tax to fund road maintenance. As more and more people have cut the cord in favor of cell phones, the revenue from this tax has declined.
All three candidates said they did not want to see new taxes payable for future road maintenance.
Spokane Valley has a lot of money right now to take care of road maintenance, Thompson said. The city has $ 10 million in surplus funds.
"We can use the money we have," Thompson said.
Padden said she didn't think the city would struggle to pay for future road maintenance.
"I think they already have the funds," she said. "There's no way we need a tax hike."
Evans said he was unsure how the city should prepare for future road maintenance. If there is a need for new taxes, he said voters should have to approve the tax.