Mourners help gardeners remove plastic from flowers left in Green Park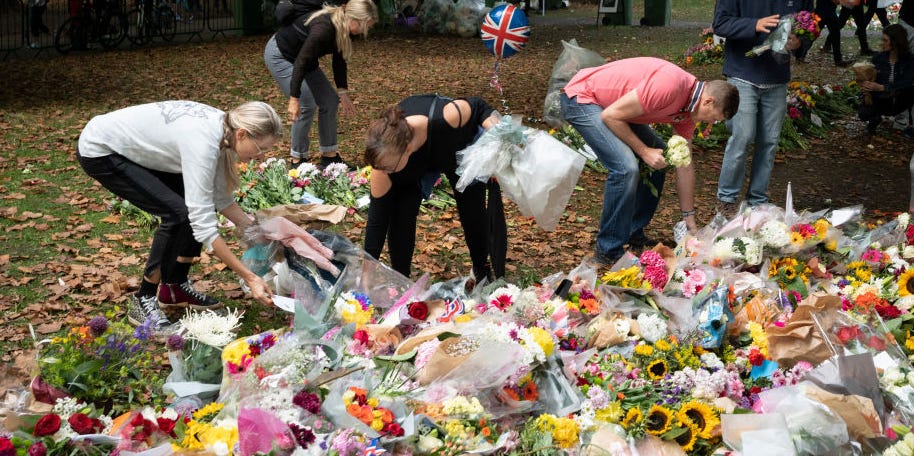 Richard BoulangerGetty Images
Thousands of mourners paid their respects to Queen Elizabeth II outside Buckingham Palace, following her death on Thursday September 8, 2022.
As the nation enters the period of official mourning, piles of flowers have piled up in the Memorial Flower Garden in Green Park, London. To help the park's gardeners and keep the flowers fresh as long as possible, mourners came together to carefully remove the plastic wrapping from the tribute bouquets.
This decision follows an official statement from The royal parks ask visitors to remove any packaging from the flowers before they are placed. The message read: "Visitors are invited to leave floral tributes at a dedicated site in The Green Park.
"You will be asked to remove the wrappings from the floral tributes. Please consider arriving with the wrapping already removed. Bins will be provided for those unable to do so. You are respectfully requested not to drop off any tributes outside of the official Floral Tributes website, the wrapping will aid in the longevity of the flowers and facilitate subsequent composting which will begin between a week and a fortnight after the date of the funeral."
Flowers left outside Buckingham Palace, which will be turned into compost for the Royal Gardens, will be gently moved at the end of each day to the Green Park tribute site. If you want to pay tribute with flowers, be sure to remove any plastic wrappings and avoid adding extra items, such as teddy bears. You can also send a message of condolence to the royal family via the official site.
"Any form of floral tribute is acceptable. In the interest of sustainability, we ask visitors to deposit only organic or compostable materials. We would prefer that visitors do not bring non-floral items/artifacts such as teddy bears or balloons."