Myrtle Beach First Responders Learn New Lifesaving Skills Through NABC FREE™ Program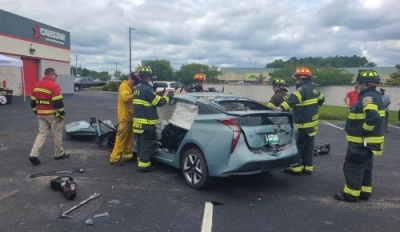 More than 20 first responders from Myrtle Beach, SC, fire departments and surrounding areas gathered recently for a hands-on demonstration of the latest in emergency vehicle extrication techniques, preparing them to provide the best response for victims of car accidents, thanks to the National Automobile Bodywork Council (NABC)® FREE™ program, CARSTAR Myrtle Beach, USAA insurance and Genesis Rescue Systems.
When drivers in and around Myrtle Beach have an accident, they rely on community first responders to help get them to safety. And when driving a newer vehicle with lots of airbags, advanced technology, or electric/hybrid motors, rescue may be more difficult.
The NABC First Responder Emergency Extrication program helps first responders stay abreast of rapid changes in vehicle design, including high-strength steel, airbags, advanced restraint systems, and in-vehicle technology. Alternative fuel systems found in electric and hybrid vehicles present new challenges for first responders at the scene of an accident.
CARSTAR Myrtle Beach at 1560 Highway 501 hosted first responders for a special NABC FREE instruction program on June 4 to ensure Myrtle Beach drivers have the best response in the event of an accident.
"USAA and NABC have given first responders incredible training that they will only receive in the field under pressure to save lives," said Ken Depper, owner of CARSTAR Myrtle Beach. "This training will give first responders the tools to save lives on the front lines."
USAA Insurance provided the vehicles and Genesis Rescue Systems provided the classroom education and extrication demonstration.
Source: NABC