New Sugarbush Adapted Ski and Sport Facility Enhances Athlete Experience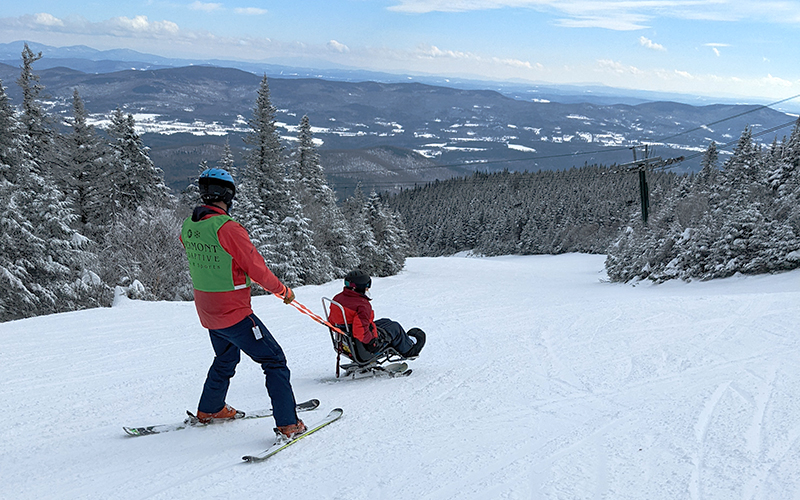 Jay Flickinger of Shelburne loves to ski. He doesn't let the fact that he uses a wheelchair slow him down. He has been skiing with Vermont Adaptive Ski and Sports (VASS) for five years and is good at sit-skiing. Last Friday morning, he prepared to hit the slopes at the new, $2.7 million VASS facility at Sugarbush's Mt. Ellen. His wife Cally helped him put on his ski gear while staff members adjusted his gear inside. The new facility is ski-in, so athletes can gear up inside and get straight to the snow.
"We can put the athletes in their gear indoors and make all the adjustments to their gear before they go out. It was a game-changer for sure," said VASS Director of Communications Kim Jackson.
The former Mount Ellen Pavilion space, which had existed since the early 1990s, was 400 square feet. The new space is 10 times larger and includes areas for mounting and storing equipment, a quiet space with bean bag chairs and an aquarium, a kitchen for cooking meals, lockers, several disabled bathrooms, an elevator , a multipurpose room and a terrace where families, friends and caregivers can watch their athletes ski and ride.
"It can get chaotic," Jackson said. "If you just need a quiet space, this room is huge to have that availability. Just having the extra space makes it easier for us to move around. We can settle down when we are inside to prepare to go out. We can have more people, more volunteers," she said.
The new facility, accessible through the base lodge, opened in December and is the second such facility in the state. VASS is based in Mt. Pico/Killington, in a $1.3 million space built in 2013. It is also working to open a facility on the Waterfront Bike Path in Burlington. On average, VASS conducts about 3,000 sorties statewide each year (an individual may do multiple sorties). "We've definitely been a lot busier" in the new space, she said, despite the COVID cancellations.
"It's phenomenal," said Jay Flickinger. "The other room looked like an obstacle course and the door was narrow. We had to find a place to sit. All those windows, lots of space, brand new bathrooms. You ski into the building; you don't have to stop and take things off. It's absolutely phenomenal.
VASS serves athletes ages 2 through 90, Jackson said. "It's a combination of people living locally and tourism. Now this building makes everything accessible in The Valley when it comes to recreation. The facility will also be used for summer recreation. VASS leads paddling and mountain biking groups. "Now we can be anchored here and go out for summer mountain hiking, mountain biking and hiking. I think we're going to see strong growth at the end of the summer.
Considerations for the new facility included soothing lighting, soothing paint colors, comfortable spaces, and room for equipment storage and adjustments. Jackson said VASS will be able to offer additional programs and activities in the new space, such as adaptive yoga, meditation and healthy cooking. VASS has also expanded its veterans program, which now has an office in the new facility. "There's a lot of things we're going to be able to do," she said.
"It's easier for me to navigate the space and not be with everyone in the pavilion trying to get to the suitable facility," Cally Flickinger said. "I felt like I was always stepping on people. There was no space to put your groceries, your clothes. It's accessible, it's really wonderful. The space is bright and cheerful and there is room for all of us.
"It makes the sport accessible," Jackson said of the new space. "If you think of a family that lives in the country and maybe has a child with a disability, they now have a grounded place to come, ski together, vacation together and do everything as a family unit. We get a group of 20 or 30 people and maybe someone has a spinal injury or mobility issues. We can take them out on the slopes with their friends. It becomes such awesome holiday for people. I think that will really help bring everyone here.
"We are thrilled that so many people have helped make this possible," said Cally Flickinger. "It's a big community. We would be lost without them. They were so supportive and ready to help. They have become friends.
The Flickingers' one-year-old dog, Taffy, joined them inside while Jay got ready, much to the delight of the athletes and volunteers. Taffy is training to be a therapy dog. "He really is a great dog for Jay," Cally said. "There is room here for her. Lots of space to walk around which is wonderful. I don't feel cramped or in anyone else's way. Everyone has their own space. I think it works well.
Once Jay got his gear on and his gear adjusted, instructor Andy Cook pushed him out the door onto the snow and he was good to go. With Cook's guidance, Jay made wide turns in his sit-ski, while two volunteers "blocked" from behind, making sure there was enough space between him and the other skiers and riders. When the team stopped for a mid-term break, Jay beamed and clapped. "It's simply the best," he said with a big smile.