Party boy Afif is also guilty of insults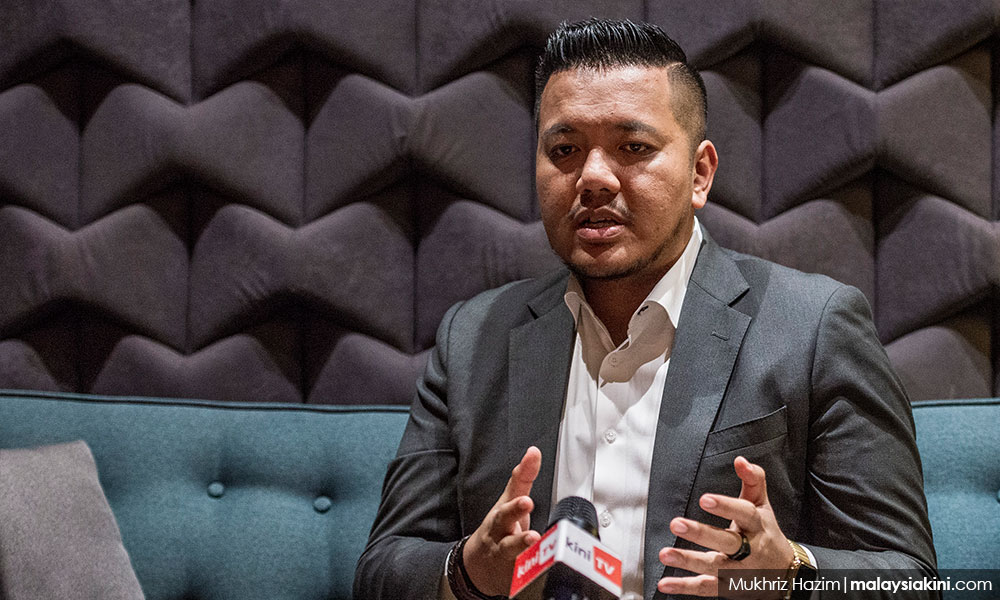 YOUR SAYS | 'If your 'anak buah' jumped like a frog, would you just look up and smile?'
Afif: Anwar embraces 'Mao-style' demonization of dissidents
Kilimanjaro: We believe that the president of the PKR, Anwar Ibrahim, has been too lenient towards these traitors. Anwar has been and always will be on the side of the voters.
When these traitors have been selected and run under the party ticket, there is a solemn trust that the selected and elected candidates must nurture and safeguard.
Seberang Jaya MP Dr Afif Bahardin (who left PKR in 2020 to join Bersatu) should have given up his elected position and sought a new mandate. It is because of these traitors and frogs that the people have gone on a crusade to insist on the anti-hopping bill.
According to the Federal Court, the anti-hopping bill in Penang, which was passed by its state assembly, is sound and correct.
Anwar and Harapan should select strong candidates to finish off these frogs. What democracy is Afif talking about? He betrayed the voters who elected him. 'Tak malu ke dia' (Isn't he ashamed?)
Apanama is back: Afif, you better leave your state seat in Penang because you will not be re-elected in the next elections.
Seberang Jaya is one of the constituencies under the parliamentary seat of Permatang Pauh (a PKR stronghold).
While PAS chairman Abdul Hadi Awang called Pakatan Harapan leaders "unbelievers and immoral", you called PKR chairman Anwar Ibrahim a "communist".
You mentioned that Anwar attacks PKR defectors with abuse and insults, and this is akin to him adopting the "Mao style" of demonizing dissidents.
If what you've done isn't a curse, then what is?
One day when you become leader of a party and your 'anak buah' jumps like a frog to another party, do you just stare and smile?
Undecided: Afif urged Malaysians to beware of the PKR because the party resorted to "a communist-style policy of hate and abuse".
First of all, Afif, there is no "Communist hate and insult policy". Even if there were, you seem to be doing the same thing.
There is no doubt that frogs like you and former PKR deputy leader Azmin Ali deserve to be punished for betraying the mandate of the people – the recent anti-hopping legislation passed is confirmation of this unacceptable and corrupt behavior.
Ememkay: Afif, I wholeheartedly agree with Anwar for demonizing dissenters because the people's mandate at GE14 was not honored by Sheraton Move traitors like you.
BN, PN and PAS question what Harapan did during the 22 months he was in power when he was not allowed to govern properly.
However, even with the difficult situation, Harapan managed to lower tolls, introduced a minimum wage with a gradual annual increase of RM100 which was not excessive for the industries to manage and many other programs focusing on people, as well as bringing kleptocrats to justice. .
Goliath: The right to leave a political party is revoked the minute you convince the rakyat to vote for you and supposedly for a coalition where the rakyat wants to be the government of the day.
You can leave a political party if it doesn't impact who we choose as the government, but you can't leave a party to overthrow a chosen government and install a new one that the rakyat didn't want.
The damage you and Azmin have done to the country will take years to undo, if it can ever be undone, and the selfishness in your act of betrayal amounts to traitors who must be called out and eliminated to eradicate the politicians who place their existence above the nation.
The push for Anwar to be Prime Minister during Harapan days was the right decision and should have been implemented as we all know the consequences that former Prime Minister Dr Mahathir Mohamad and former Deputy Prime Minister Muhyiddin Yassin will bring to this country.
And so far, we haven't been wrong.
Existential Dung: "Afif urged Malaysians to beware of the PKR because the party resorted to 'a communist-style policy of hate and slander'."
Well, Afif, PAS has a long history of demonizing minorities. Have you ever compared it to communism and Mao Zedong?
At least what Anwar said has some truth to it. What PAS leaders often say is alarmism, xenophobia and bigotry.
Gerard Lourdesamy: Why should we listen to a traitor? If principles mattered to people like Afif, he should have left his seat when he switched parties and let the voters decide.
How did Anwar undermine the Harapan government? Azmin colluded with ministers Umno Hishammuddin Hussein (defense) and Hamzah Zainuddin (interior) to bring down the government and prevent the transition because he himself wanted to become deputy prime minister and eventually prime minister.
Penang voters will show Afif the door in GE15.
---
The above is a selection of comments posted by Malaysiakini the subscribers. Only paying subscribers can post comments. Over the past year, Malaysians have posted over 100,000 comments. Join Malaysiakini community and help set the news agenda. Subscribe now.
These comments are compiled to reflect the views of Malaysiakini subscribers on matters of public interest. Malaysiakini does not intend to present these views as facts.