San Francisco leather and bear fairs among first outdoor LGBTQ events to come back in person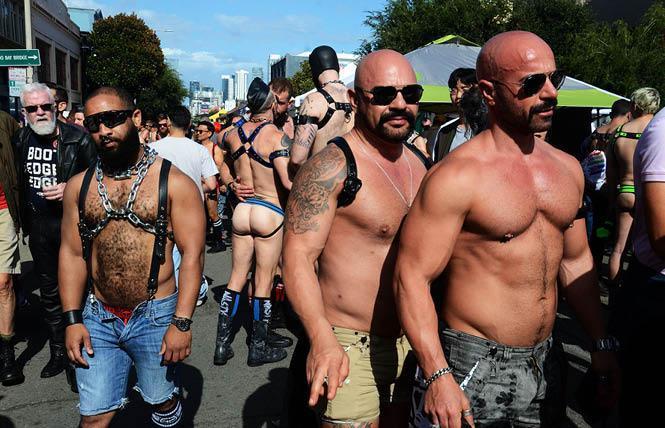 As the Bay Area and the state open up after more than a year of closures and restrictions linked to the COVID-19 pandemic, LGBTQ street fairs are among those returning events.
The leather and pleat-focused Up Your Alley and Folsom Street fairs in the city's South of Market neighborhood will continue with in-person gatherings, but in renowned formats meant to help neighborhood LGBTQ businesses recover from the impacts. economic aspects of the pandemic.
"Our July event will be renamed Folsom Street Market and will focus on vendors, but in the same footprint [as the Up Your Alley street fair]"Angel Adeyoha, queer and non-binary executive director of Folsom Street Events told the Bay Area Reporter." We plan to bring Up Your Alley, in all its tacky glory, next year. "
Adeyoha said Folsom Street Events hopes to partner with the city to provide COVID-19 testing and vaccines for the Folsom Street Market event, which will take place on Sunday, July 25. There will be no alcohol or food "because we want to support the bars and places that have had a terrible year," Adeyoha said.
On Sunday September 26, Megahood 2021 will be held in place of the Folsom Street Fair. Megahood is reminiscent of the original name of SOMA's internationally renowned Kink and Leather festival when it started in 1984.
Adeyoha said Folsom Street Events has received feedback from community members, some of whom have expressed concern that the fair has become too disconnected from the SOMA community. "Focusing on the basics" will be Megahood's theme, Adeyoha said.
"We're trying to center – based on feedback from the last few years – these community roots," Adeyoha said. "We will give special priority to marginalized members of our community, both in terms of providers and entertainment."
Folsom Street Events will also partner with Lava Mae to provide "on-site showers and reception areas for homeless neighbors, because one thing our fair does that isn't great is that people feel kicked out of it. their neighborhood ".
The association will also provide snacks and shade for the homeless.
Megahood 2021 will be bigger than Folsom Street Market, just as Folsom Street Fair is bigger than Up Your Alley. There will be "more vendors" and "more stalls", but neither will alcohol and food be served so that people can patronize SOMA establishments.
"Don't expect 2019 just yet," Adeyoha said. "We are ramping up; it will be a party, but not like before the pandemic."
In the meantime, a series of smaller outdoor events called SOMA Second Saturdays kicked off in May. A second phase will be held between 9th and 10th streets on Folsom Street, and the cul-de-sac of Dore Alley on June 12 from noon to 5 p.m. (the first was held only in the cul-de-sac of Dore, which is located between Folsom and Sheridan streets, adjacent to the power station.)
"It's a way to start coming back to the events in person," Adeyoha said.
SOMA Second Saturdays, organized in coordination between Folsom Street Events, SOMA West CBD and the Leather and LGBTQ Cultural District, is a vendor, arts and crafts fair. COVID-19 protocols will be applied. The leather district touts "a safe and fun afternoon with Queer Art, Kinky Crafts, Local Artisans, Fun Vendors, Clubs and Organizations" on her website.
New Bear Fair coming to Harrison Street in October
A few blocks south, the first Bearrison Street Fair is scheduled to take place on Saturday, October 30, from noon to 6 p.m.
The Bearrison Street Fair, on Harrison Street, is a collaborative effort between the Bears of San Francisco and the Sisters of Perpetual Indulgence.
"There was actually a bear fair on Harrison Street over ten years ago," said Erik Greenfrost, a gay man who is president of Bears of San Francisco and co-chair of the Bearrison Street Fair, referring to the Hairrison Street Fair which took place in the 2000s, as reported by BAR at the time.
Before the pandemic, Greenfrost and Desi Juana DeWitt, now also co-chair, thought of resuscitating the idea in coordination with the Sisters.
"We have so much talent, so much energy and so many events that the Sisters have organized that have gone – from Pink Saturday to Halloween in the Castro," said Greenfrost. "We had our first meeting on the Eagle's back patio to see who would be interested, and we had a good turnout."
Throughout the pandemic, the idea of ​​the fair has been put on the back burner. This was one of the first in-person events to be announced when COVID-19 restrictions began to ease in early 2021.
"We are working closely with the city and we feel optimistic," Greenfrost said. "Linked to COVID, flu, we want to take inspiration from the city, but so far we haven't been asked to take specific precautions.
Greenfrost told BAR the fair will be "a mask-friendly event" but should not have a mandatory mask policy.
"We want to make sure everyone feels welcome and we will have opportunities for masks and social distancing, but ideally we won't have anything to demand and people can approach the street fair as they see fit. feel comfortable, "Greenfrost said.
The fair's epicenter will be Harrison and 11th Street, spanning one block in each direction, Greenfrost said. Heading to Eagle Plaza, at 12th and Harrison, there will be a DJ dance area. Towards the east, there will be concerts. Towards the north, the fight – both professionally and collegially – is planned.
"We look forward to working with the city to produce a large outdoor event that is safe and complies with public health guidelines in place in October," DeWitt said in a press release. "We hope that by October the pandemic will be under control and this can be an opportunity for people to revive the community as well as bring business back to the city – especially in the historic Leather & LGBTQ cultural district. "
Oakland Pride obtains "provisional agreement to organize in-person festival"
The usual San Francisco Pride Parade to Market Street and Civic Center Celebration will not take place this year, as BAR previously reported. Instead, the highlight of events will be movie nights at Oracle Park on June 11-12.
Oakland Pride, however, told BAR they are planning an in-person event on September 12.
"So far we have the option of hosting a festival in person," said Carlos Uribe, Oakland Pride co-chair. "We plan, coordinate and set up the facilities for an in-person festival. We will also be programming a digital component for Oakland Pride as well, for those for whom it is not safe to attend large gatherings, who do not are not. vaccinated or have an accessibility problem. "
Uribe said Oakland Pride expects more clarity "in the next few weeks or in June" on what will be specifically authorized in person in September. Once Oakland Pride is able to have the necessary discussions with Oakland and Alameda County officials, it will make an official announcement.
"We are delighted to be back this year for our community," said Uribe.
The Castro Street Fair, which typically takes place on the first Sunday in October (a week after the Folsom Street Fair), did not take place in person or virtually last year, said Jenn Meyer, chairman of the board. directors of Castro Street Fair. BAR in a statement that she is "hopeful" about the prospects for an in-person rally this fall.
"Castro Street Fair continues to monitor San Francisco health guidelines and has no event plans to announce at this time," Meyer said. "The limits imposed by the guidelines will determine any plan for an event in 2021. Organizers still hope to produce a rally in October that embodies the spirit of the nearly half-century tradition of the Castro Street Fair while ensuring that public health guidelines are followed.
Officials at Silicon Valley Pride, which usually takes place in late August, declined to comment for this story. His website currently states that the annual parade and festival is scheduled for August 28-29, with a message for people to "Save the Date! Please stay tuned."
Help the Bay Area Reporter keep going through these trying times. To support local, independent and LGBTQ journalism, consider become a BAR member.