UK hosts first event at new WAARP flight facility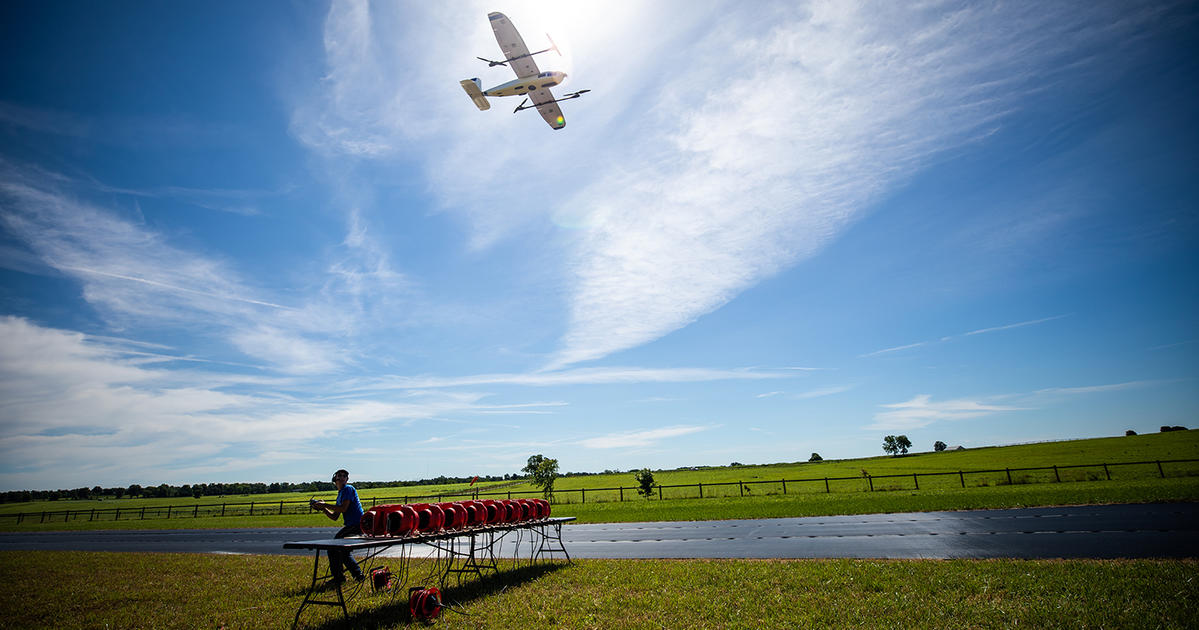 LEXINGTON, Ky. (July 15, 2021) – Researchers from the Department of Mechanical Engineering at the University of Kentucky hosted collaborators from Virginia Tech and Oklahoma State University for a series of unmanned aircraft systems (UAS) flight experiments June 21-24 in the new flight facility of the Wildcat Agricultural and Atmospheric Research Pavilion (WAARP). WAARP is located at North Farm off Ironworks Pike, a 971 hectare agricultural research center operated by the University of Kentucky.
This in-flight experimentation campaign is part of the NASA Sponsored Smart Weather Navigation Data and Models for Aviation Planning (WINDMAP) multi-university research collaboration to improve weather awareness for future advanced air mobility systems such as drones, air taxis and urban flight management. Rather than travel to Colorado for similar installation capabilities, researchers at Virginia Tech were able to meet their targets at WAARP in the UK. In addition to the campaign participants, visitors to the event included representatives from the British Heritage Science team EduceLab, the Proposal Development Office and the Technology Commercialization Office, among others.
The WAARP Flight Facility was designed by Michael Sama of the Department of Biosystems and Agricultural Engineering and Sean Bailey of the Department of Mechanical Engineering with the assistance of staff from the Facilities Management and Kentucky Agricultural Experiment Station at within the College of Agriculture, Food and the Environment.
WAARP is a state-of-the-art facility that co-installs UAS and meteorological infrastructure on a UK research farm currently serving the departments of Veterinary Sciences, Animal and Food Sciences, Plant and Soil Sciences, horticulture, biosystems and agricultural engineering. , among others. Concentrating resources on a single site provides a unique opportunity for convergent research in the fields of engineering, science and health, "said Sama. "Before WAARP, our teams frequently visited sites across the country to access similar resources. WINDMAP is a great example of how we can bring multi-institutional collaborative research to the UK with this new resource.
WAARP has a 450-foot by 45-foot geotextile track to support UAS operations over a broad performance envelope. The UK's current fleet consists of different sizes and models of autonomous fixed-wing, multirotor and vertical take-off and landing (VTOL) aircraft. Large open shelter provides ample comfortable workspace, energy, storage, and visibility for pre and post-flight efforts, as well as ground station computers, mission control operators, and pilots captains, who enable effective and efficient search flight operations.
In addition, the site has a suite of ground-based atmospheric instruments, including a meteorological tower built to Mesonet standards with data on wind, temperature, pressure, humidity, precipitation and water content. soil water. In addition to this tower, a smaller tower measures solar radiation, ground heat flow, turbulence, and ground temperature. The site is also equipped with a Vaisala WindCube atmospheric lidar capable of vertically profiling the three wind components from 40 m to 200 m at 1 Hz and a Campbell Scientific celometer measuring cloud height and layer height. mixture. All sensor information is available for weather reference and UAS sensor calibration. Local network and internet connections are provided to allow remote access to site data.
The Ford Transit Mobile Autonomous Systems Support Vehicle (MASSuV) van supports WAARP capabilities that enable advanced UAS research, which has been modified to support UAV laboratory field measurements. This vehicle is designed to serve as a tracking vehicle for long-range line-of-sight (VLOS) flights or as a fi xed ground station for VLOS and beyond line-of-sight (BVLOS) flights. For this reason, the vehicle is able to power mobile computing platforms through solar panels or shore power inputs. In addition, it is equipped with a full suite of communications equipment and a meteorological mast to provide reference meteorological data.
The UK has FAA clearance to conduct aeronautical research flights up to 1,000 feet in the facility. The remaining flights are performed by UAS pilots certified by the FAA under FAA Part 107 rules.
In addition to WINDMAP, several other active research projects in the UK use the WAARP pavilion.
"Having this facility has really transformed our research capability and opened the door to new opportunities to use UAS to answer scientific questions," Bailey said.
"UK research into unmanned aircraft systems and their use in agriculture, communications, transport and healthcare has steadily increased over the past 10 years," said Suzanne Smith from the United Kingdom's Unmanned Systems Research Consortium. "The UK's WAARP and cutting-edge UAS flight test research would not be possible without the support of UK Vice President of Research Lisa Cassis and Deans Rudy Buchheit (Engineering) and Nancy Cox ( CAFE). The UK's outstanding faculty and faculty will serve aeronautics, atmospheric science, agricultural research and more for many years to come. "
Mobile systems also open up a whole new world of possibilities for heritage science, according to computer science professor Brent Seales. He plans to integrate the capabilities of MASSuV into his research laboratory, EduceLab, which focuses on imaging and restoration of heritage objects.
"Much of the heritage of humanity is contained in agricultural, architectural and archaeological sites made up of artifacts that cannot be placed in a museum," Seales said. "Things like buildings, villages, cemeteries and cave systems, for example. We have never had the ability to measure, infer and understand their inaccessible characteristics in a detailed and scientific way. Large and small scale controlled flight using sensitive instruments gives us this capability and allows researchers to ask and answer many new questions about these heritage environments.